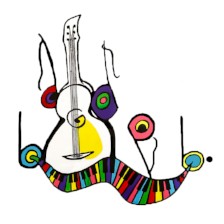 Suzanne Carroll aka Suzic is a songwriter/composer based in Waterford, Ireland. She was born in Dublin, Ireland in 1967. She has been writing songs and music for over twenty five years. Her love for music came from my grandfather Samuel McNulty from Derry, Northern Ireland, who played the fiddle in a showband. She recorded her early music in Dick Keating's studio in Dublin, Dick wrote the song 'Here Today Gone Tomorrow' which represented Ireland in the Eurovision in 1982.
In recent years she has recorded her music in Optophonic Recording Studio in Dublin, Ireland, working on her recordings with producer Derek Cronin, whom has worked with artists, Sinead O'Connor, Katherine Jenkins and Westlife amongst others. She has had numerous music and songs recorded in recent years in this studio. She has also been working with producer Chris Erhardt who is based in the Songcat Recording Studios in America, and have recorded some songs in his studio I also co-wrote one of my songs 'Another Lifetime' which is country/pop genre with him. She is presently doing some recordings in her home city of Waterford, with Moorhouse Studio. She composes a lot of instrumental music which would be suitable for film/tv.. Her main musical influences are Freddie Mercury, Michael Jackson, Hans Zimmer, Enya, Mozart, George Michael, Carrie Underwood, James Horner And Adele.

She is now focusing on current main stream Pop and Country genres which she loves,and she also has done some co- writing with singer/songwriter Krysta Youngs who has wrote songs with and for Artists such as Rihanna, Christina Aguilera, Cee-lo, Tydi and Marshmello.
She signed with a Record Label called Bentley Records back in March 2017, with them she has had two single releases and back in july 2017 had her first album release with them called All My Love. She released a song called Our children's World a song for all the children in the world who suffer and don't have a voice, she done a video of the song and used footage for the video from the International charity global goal who work with the poor in this world. she also decided to donate fifty per cent for each download. She is currently working on her first Celtic New age Album which will be available for release. The first single release of this album will be released via her label Bentley records. She just recently started working with a new studio based in Dublin and a producer called Larry Hogan who has worked with and produced artists such as Bob Geldof, Ronan Keating and Brian Kennedy, Larry has produced her first single release of the New Album Called The Flow of Life.